I am so excited because last night we got our Christmas tree!!
 It was the first tree we saw and I named him Harold right away and even though we looked at a dozen more we ended up back at Harold and now he looks great in our living room. Do you name your Christmas tree every year? Last year our's was named Ferdinand!
Personally, I know it's late in the season but it doesn't really feel like Christmas without a tree and I am SO excited that we now have one. Tonight we're going to decorate it while we listen to Christmas music. Once again I'm excited. Can you see a theme?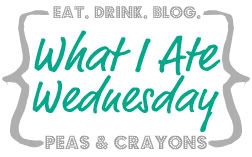 Yummy Yummy Breakfast
Green Monster Smoothie with Steel Cut Oats!
Smoothie: Frozen strawberries, soy yogurt, banana, spinach and celery
Oatmeal: Steel Cut Oats with cranberries and walnuts on top (big surprise right)
Mid-Morning Snack
Whole wheat bread with peanut butter and all natural apple juice
Not a great Lunch
Quesadilla filled with rice, black beans, salsa and nutritional yeast with broccoli
Unfortunately this was not very yummy… the tortilla, rice and beans were dry and the salsa was eh. Overall, a swing and a miss.
After Dinner Snack
Chocolate peanut butter toast with a big cup of Teccino!
Delicious Chipolte Dinner
Since we didn't finish picking up our Christmas tree until 7:30 PM I thought it would be best if we picked up Chipolte on the way home! Josh and I LOVE Chipolte and usually pick it up every Friday night but this week we shook things up and I"m happy we did!
I had a burrito bowl filled with brown rice, black beans, lettuce, mild salsa, corn, fajita veggies and a big dollop of guacamole with chips! With a big glass of Poland Spring Sparkling water and Cranberry juice. SO yummy!!
*************
Well that's all for this week! I hope you have a wonderful Wednesday and check back here tomorrow to see how my December goals are going!